Mewtwo is a character in The Air Ride Series.
Mewtwo was a villain in TARS, being the main villain in many stories, and appearing a bit in comics.
Poyo's thoughts on the character
Edit
Poyo Ride says that Mewtwo is a canadate for the worst character in the entire series. This is mainly due to one factor, Brown Kirby. Brown Kirby and Mewtwo were basically the same character, except Mewtwo appeared a lot more than Brown Kirby. Brown Kirby, however, deserved these appearances more, as the series was technically about Air Ride, not Pokemon. Mewtwo was also just a generic character who was just taken from a video game, unlike Brown Kirby, who brought a bit more to the table than the Brown Kirby from Kirby Air Ride. On the ten worst characters sheet made by Poyo Ride, he says Brown Kirby should have replaced Mewtwo in every instance except Comic 72. However, Poyo Ride no longer considers him to be as bad. Infact, despite being a very obvious choice, he was one of the first two characters revealed for the SMSB M.U.G.E.N. port, alongside the guarnteed quick White Kirby inclusion.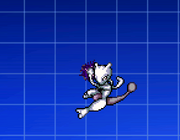 Mewtwo was one of the first two characters confirmed for SMSB M.U.G.E.N., alongside
White Kirby
. He uses custom made sprites originally created by ssbkid, with edits made by CheDDar-X, Sonic_Pwns, Grim, Neimad, Termin-X, and Mii. 
A tweet has confirmed the appearance of Mewtwo's forward air from Melee. (Pictured) This attack launches foes upwards, according to the tweet. 
Shadow Ball will also be appearing in the game. It is apparently a strong projectile with a decent chargeup time.
Mewtwo's facebook account was disabled. Poyo Ride does not have a good explanation, but says facebook might have linked him with the other air ride series facebooks and deleted his account.