15 Funny Scenes. The one shown from Comic 84 wasn't even meant to be funny lol, it was more meant to be "awesome and cool." At least the Light the Skool on Fire joke still got in.
      —Poyo Ride post series.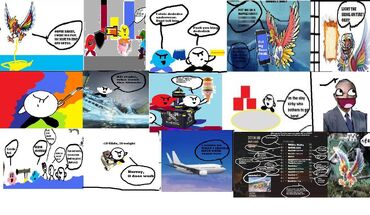 Comic Memories
is the 101st comic in The Air Ride Series. It is the second part of the 100 Comic Celebration. This comic features various panels and crops from the first 96 comics.
Scenes Included
Edit
Characters
Edit
COD Lobby
Edit