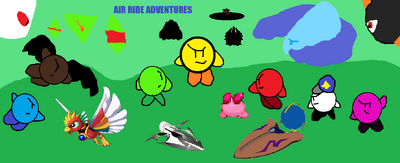 Air Ride Adventures
is a series made by Poyo Ride. ARA was made the same day TARS was cancelled, and was meant to be the replacement of TARS. ARA is currently authored by
Kidsy128
, after Poyo lost intrest.
Air Ride Adventures was made on the same day TARS was cancelled, November 24, 2016. It was the first of three reboots to TARS, alongside Magical World of Randomness and Academy Misadventures. ARA was the reboot to TARS's air ride side. A few TARS characters returned, but the kirbies had all new personalities.
While ARA was going good for the first few months, Poyo Ride lost intrest in the series in February. He used a notebook to write down ideas for the next Air Ride Series, Red Kirby Air Ride, as Poyo Ride claims he made ARA too soon. However this was scrapped. Poyo Ride decided to make the final story to ARA, ARA: Stars & Gangs. The story was originally planned for December, pushed forward to June, and pushed forward even more to April. Poyo Ride later decided to give the series to Kidsy128, as he wanted to see what he would do with it.
Out of every series made between TARS and MWOR, this has been the most successful, lasting for two months before Poyo Ride started to lose intrest.
Ad blocker interference detected!
Wikia is a free-to-use site that makes money from advertising. We have a modified experience for viewers using ad blockers

Wikia is not accessible if you've made further modifications. Remove the custom ad blocker rule(s) and the page will load as expected.